Name /Nom : Hirondelle
Sire : HT 0253
Situated /Lieu : near Alençon, dans l'Orne (61)
Race : percheronne
Sexe : mare
Colour /Robe : light grey
Age : 15 ans (23/04/1995)
16.2 ish - 170 cm
link to her subject on GPLV ;
http://galoppourlavie.forumactif.org/urgences-boucherie-f17/61-hirondelle-percheronne-15-ans-450e-boucherie-15-10-t12197.htm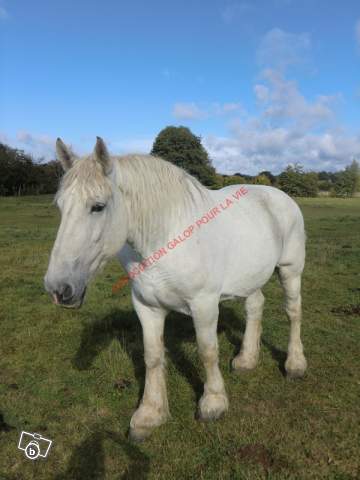 Not backed ,with training could be backed , good health, recent abscess in the foot treated , very gentle mare , docile, was used on the milking farm ,
Before the milking farm she was used to work the land.
She lives out.
If for riding - needs experienced rider.
Delai 15 octobre 2010
Prix 450e sous contrat avec suivi GPLV , transport NOT included
Si Hirondelle vous intéresse, merci de copier/coller la convention suivante et de l'envoyer remplie par mail à galoppourlavie@gmail.com, ou par mp à un admin du forum
http://galoppourlavie.forumactif.org/guide-d-utilisation-gplv-f211/nouvelle-procedure-d-adoption-a-partir-de-lundi-7-09-2009-t8143.htm